---
2021-01-04 (MONDAY) - EMOTET EPOCH 2 INFECTION WITH TRICKBOT GTAG MOR9
ASSOCIATED FILES
2021-01-04-IOCs-with-Emotet-with-Trickbot.txt (3,014 bytes)
2021-01-04-Emotet-infection-with-Trickbot-traffic.pcap (5,413,308 bytes)
2021-01-04-Emotet-DLL-file.bin (436,224 bytes)
2021-01-04-Word-doc-with-macros-for-Emotet.bin (165,719 bytes)
2021-01-04-registry-update-for-Emotet.txt (744 bytes)
2021-01-04-scheduled-task-for-Trickbot.txt (3,386 bytes)
fullcombo1541455676\SecurityPreloadState.txt (14,504 bytes)
fullcombo1541455676\launcher.bat (1,493 bytes)
fullcombo1541455676\zvnxrohlqhnp.exe (684,117 bytes)
NOTES:
All zip archives on this site are password-protected with the standard password. If you don't know it, see the "about" page of this website.
IMAGES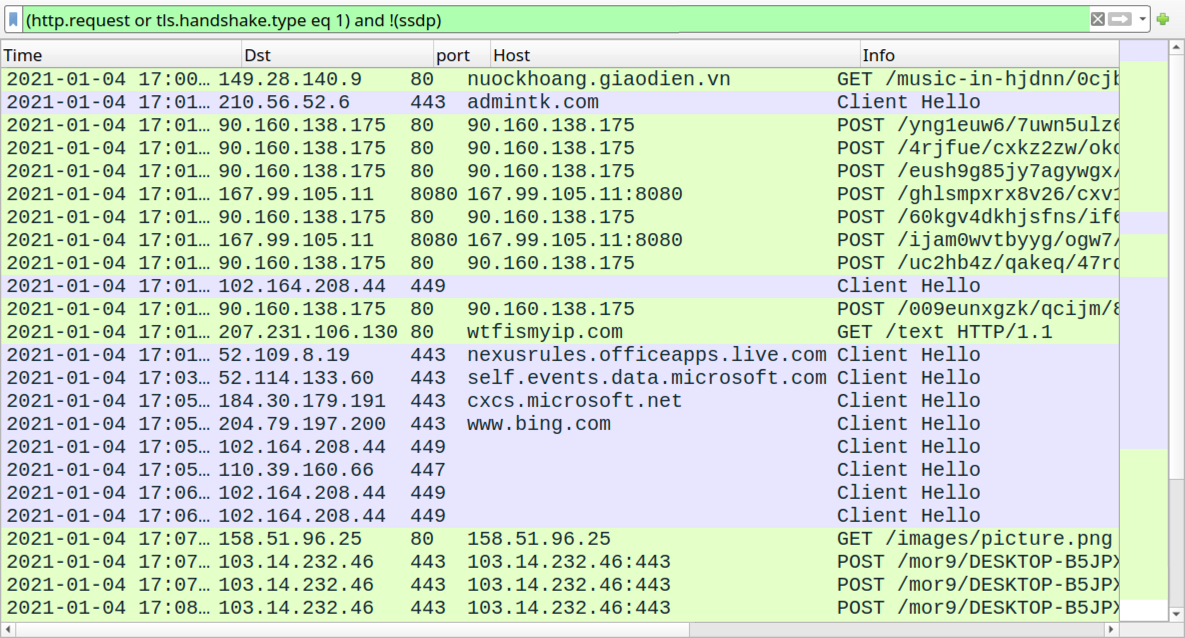 Shown above: Traffic from the infection filtered in Wireshark. Click on the above for a higher-resolution image.
Click here to return to the main page.
---